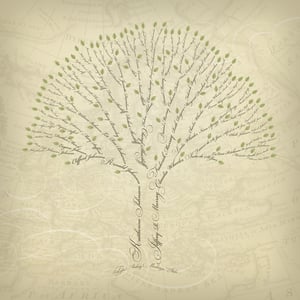 $

199.00
Display your heritage with a tree created using your family names and featuring the country or state of birth of each person. Since every family has different names with unique properties, every tree is custom created by a professional designer. The result is a work of art that will become a family treasure.
This price is for the down payment on your tree design. The final product will be a GALLERY WRAPPED CANVAS: Premium printed canvas with finished back and hanging hardware. Ready to hang!
24×24" – $329 plus $19 shipping & handling
32×32" – $389 plus $19 shipping & handling

36×36" – $419  plus $29 shipping & handling
*Custom sizes available. Shipping is for U.S. only.
 
THE PROCESS :
1. We will need a five or six generation pedigree. The main couple, husband & wife are the trunk and are #1, their parents are #2, etc. We really only need the names and the country or state of birth. If there are a few missing names, that's fine. If there are major gaps and missing information go to the FAQ section below for research tips. Email me if you want me to send blank pedigree charts.
2. Pay your deposit right here. You will have the option to securely pay by credit card, electronic check or with a paypal account.
3. Email your pedigree to: jill@brightsideprints.com and indicate what product you want and the size.
4. Your custom tree will be created by a professional designer.
5. A digital proof will be emailed to you. Nothing will be printed until you approve the final design.
6. Upon approval, you will be sent an invoice to pay the final payment of your order.
7. Your tree will be printed and then shipped via FedEx.
Please allow 4 weeks for design and printing. Let us know about special deadlines. Feel free to contact us with additional inquiries or for custom design requests.
 
FREQUENTLY ASKED QUESTIONS:
1. Why is the family tree so expensive?/Is this product available as a template? Believe me, I have tried to create a template and streamline the design process. However, due to the nature of the design it's impossible. The challenge is, every name is a different length and has different characteristics. In a script font, there is a big difference between Mary Cox and Wilhemina Jorgensen (names from my tree). Every name has to be adjusted manually and every tree is built in Adobe Illustrator by a professional designer. Another reason it cannot be released as a do-it-yourself template is that the typefaces we use are "pro fonts" that are around $100 each – some of the fonts have many alternate character options which allows us to use alternate letters if it looks better. We also use the highest quality printing and materials.
2. What if I have some missing names/incomplete research?
Unless there are significant gaps I can usually adjust the tree so you don't notice.  If you have a lot of missing names, keep researching! familysearch.org and ancestry.com are both excellent resources to get started. Or you may want to consider hiring a professional, I recommend legacy-tree.com. If after you print your tree , you discover any missing names and wish to update your tree, I will make the updates for free and reprint your tree at less than half the original cost.
3. What if we have more than six generations? In my opinion, the tree looks best with six generations (seven if you count the children at the bottom as the first). If there are more than that, it gets too crowded and hard to read. It would only really work if you planned to print your tree very big. Less than five generations and the tree looks a little sparse.
4. Can you add children and grandchildren to my tree? If the couple is done having children I like to add the children at the base of the tree. If the couple is not done having children, I like to add something like "our family tree" or 'families are forever" or something like that. I don't add grandchildren and future generations because when someone has another child the tree will become out of date or incomplete.
5. Can I do a descendant tree instead of an ancestor tree? No. We are not offering that product right now.
6. How long does it take? From the time you send us your pedigree information, allow at least 4 weeks. Let us know about any special deadlines; anniversaries, birthdays, family reunions, weddings, etc. We can probably speed up your order.
7.What if I want a different size? Custom sizes are available by request.